How I Use Lasso For Pretty Product Displays
Affiliate Disclaimer: This article may contain affiliate links, if you click a link and make a purchase I may receive a commission at no extra cost to you. Learn more.
This email is about improving affiliate focused content.
Heads up: This article was a newsletter that originally went to my email list, long before it ever shows up on this blog.
You can join 1,909 other folks in getting my newsletter content every week and before you'll find it here! Subscribe today 👇
If you haven't explored this area much yet, then this is going to be perfect for you.
When I started my first niche site, I created two product focused articles and then moved my focus on to informational content.
I was learning about this trending thing called display advertising, and just how it was going to be the best way to make money from your content.
It took a long while before I paid much attention to affiliate content again – well over a year.
And that was a mistake.
You see, in the middle of 2022 I started putting together a Filipino writing team and they were writing new content for me daily.
I was editing like mad and publishing as much as I could. I was going full on output mode with informational content.
After we had covered most of the informational clusters I targeted, I remembered that I had a few product articles sitting alone on my site.
There wasn't much informational content to support them, or other 'money' content like it, either.
Which is never good. You want to fill out all your cluster types with relevant content.
So I assigned one of my writers to create several best X for Y pieces last summer.
We published five or so. And there was nothing particularly special about these posts, either.
They were the best X products for Y purpose. A roundup selection of the best seven options found from mostly Amazon and some community discussions.
I mostly let my writer handle the research and deciding which products to add.
The posts had 'custom' product displays that I made using Generate Blocks and a dash of custom CSS.
I also added two 'custom' lists for Pros and Cons, where I borrowed similar styling from another popular product display plugin (that I didn't want to pay for).
Looking back, the research and written content was kind of poor.
But here's the kicker: a few months after publishing, these posts were ranking highly and started generating significant revenue as Q4 spending began.
I published these articles as a bit of a test to see if I can rank for product-focused content.
And it turns out, I definitely can. Even with half-assed content.
Obviously I try not to do anything half-assed anymore, 'cause Google updates.
There's a lesson here that you should seriously consider writing product-focused content so that you can diversify your revenue into affiliate earnings.
Don't just rely on display advertising if there's a clear potential for other revenue streams.
Another lesson I learned is that by putting in some additional effort to make your product content more visibly pleasing, the better it can perform.
I crafted my own blocks with some custom CSS to make them look just like Wirecutters (or as close as I could).
Here's an example of Wirecutters product displays in case you don't understand: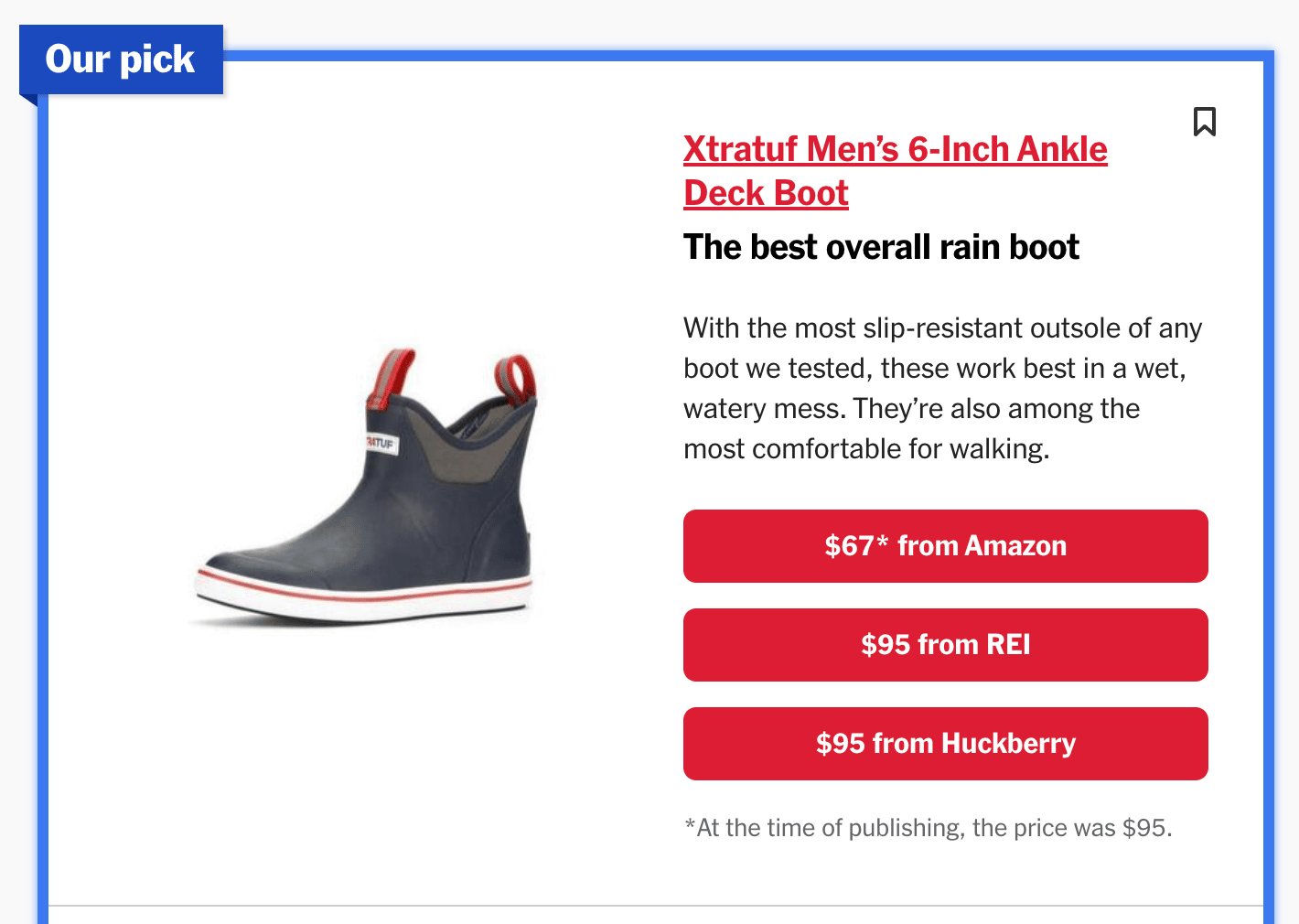 Wirecutter's product displays always look fly
The Pros and Cons blocks had green and red highlighting to make them really pop.
It was still quite basic, but it looked way better than your average Amazon product display.
I think that made the difference on usability, which is a key metric in getting people to use your content instead of bounce.
These hidden metrics are what tell Google your content is worthwhile, and it'll push it up the ranks!
At the start of this year, I decided to go much heavier on my affiliate/product based content.
Late 2022 was a bumper for me in affiliate revenue, and this was just from a handful of articles that I quite lazily put together.
It was the Bat signal I needed to tell me to make more product-focused content and to take more care to make them even more attractive to users.
Which is when I decided to finally give Lasso a try.
Over the past couple of months, I've been slowly editing my affiliate articles to not only improve the research and content, but to convert every product display over to one from the Lasso toolkit.
And they do look infinitely better.
Not only do they look great, but having one tool that can manage all your product links in one seamless experience is a massive time saver.
Before, I'd be copy and pasting my custom blocks and then editing every last detail on a page-by-page basis.
But with Lasso, I can add my product in the backend and set up every visual detail once and then insert that display on any and all posts I want it to appear.
I can even tweak the text or the way it looks on a page-by-page basis if I need to.
Having every product in my 'catalogue' allows for much easier updates or entire product changes if something goes out of stock, or commission rates drop and I want to switch products.
If I have the product to hand, I can add my own custom image to make every block far more unique and on-brand with my niche site.
The ease of dropping in a Lasso display has also allowed me to go back to those really old articles that have some crappy Amazon product images in them and replace with Lasso product displays.
So that this kind of display: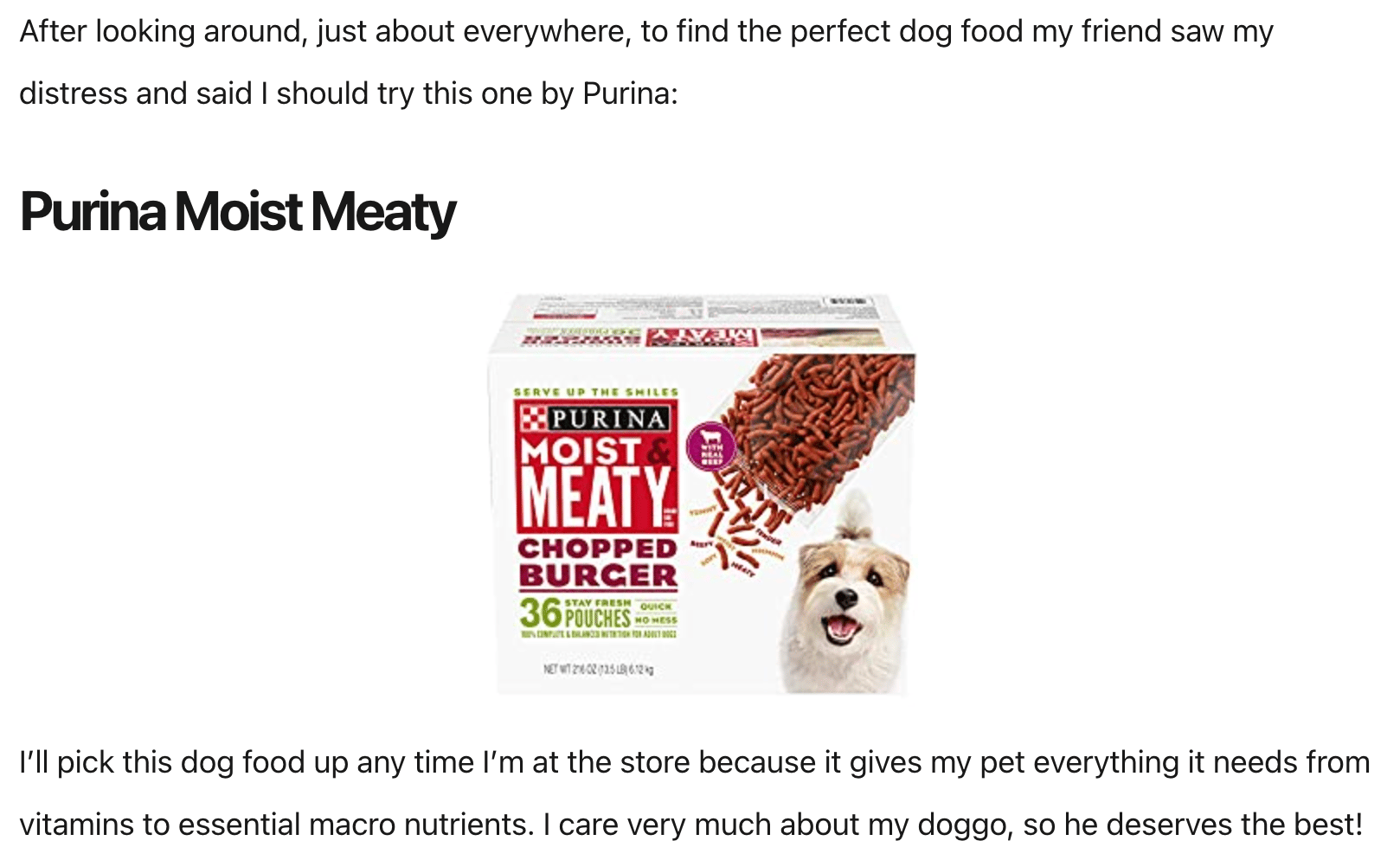 An example of a crappy Amazon product display effort
Turns into something much more attractive: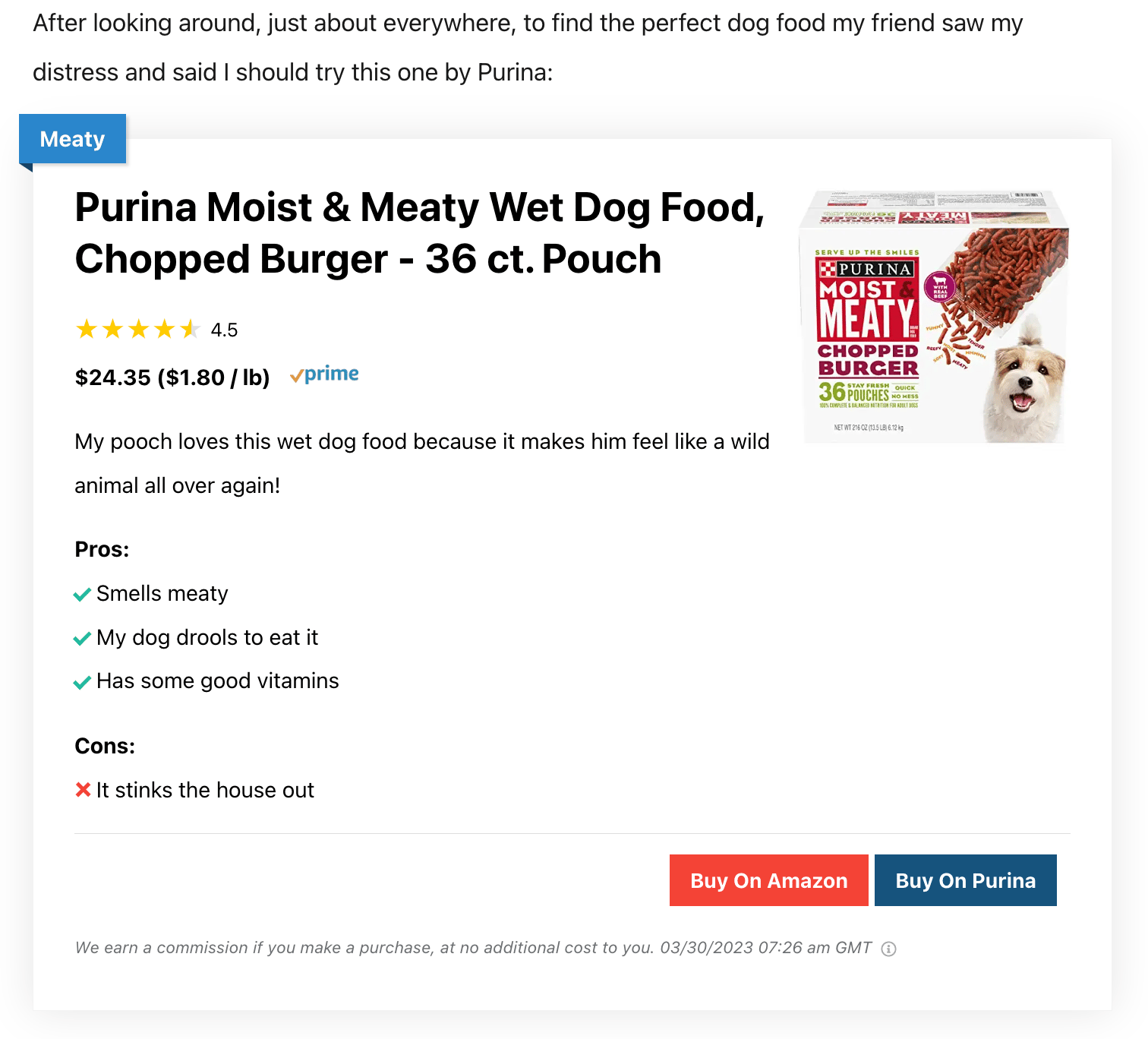 Improved product display generated by Lasso
Which just makes everything stand out more and even breathes more confidence into a potential buyer.
I started my Lasso trial a while ago, and I am now a paying customer.
While I think that I could do a reasonably good job of displaying products on my niche site, Lasso just makes the whole thing so much more enjoyable to deploy and manage.
And as of today, Lasso is more than just product displays and affiliate link management.
Lasso now has a Performance tool that connects to your affiliate networks to display the clicks, revenue, and EPC (earnings per click) through all your Lasso-connected product links.
So you don't need to login to Amazon Associates, Skimlinks, Shareasale, Awin, Impact, CJ, etc, separately to view your earnings analytics. It's all going to be in one dashboard: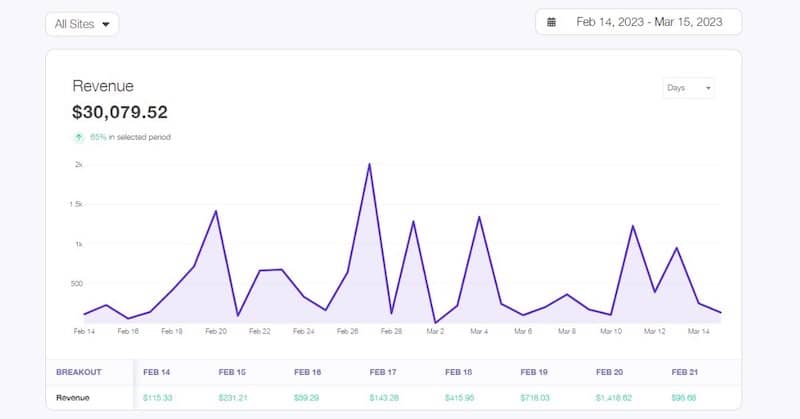 A sample of what Lasso Performance can do!
And if you've updated all your affiliate links to Lasso product displays or links, then Performance is going to be able to show your affiliate analytics down to a page-level and even display-level.
You'll know exactly which pages are generating your revenue, and even which displays are performing the best.
Getting a grasp of EPC is the important thing here, because it's the golden metric to understand the performance of your affiliate links.
If you know which links are getting clicks and most importantly converting them to earnings, then you have data you can use to improve more displays and more pages by recommending that offer more.
Lasso's Performance feature works with all these affiliate networks:
Amazon Associates
AvantLink
Awin
CJ
Impact
PartnerStack
ShareASale
Skimlinks
Partnerize
Refersion
and they're adding more constantly
So if your affiliate partner uses any of these networks to run their program, you can integrate it into Performance and begin tracking every inch of your affiliate analytics!
It's even great for smaller niche sites, as Performance is FREE for up to your first $1,000 tracked revenue.
If you want to try out Lasso and the new Performance toolkit, click here to start*
Thanks again to Lasso for sponsoring this newsletter, I am a genuine paying user of their product!
That's all for today.