The Problem With Expired Domains
Affiliate Disclaimer: This article may contain affiliate links, if you click a link and make a purchase I may receive a commission at no extra cost to you. Learn more.
Last week I talked about the fact that I'm planning to enter the travel niche space for the first time.
Heads up: This article was a newsletter that originally went to my email list, long before it ever shows up on this blog.
You can join 1,909 other folks in getting my newsletter content every week and before you'll find it here! Subscribe today 👇
I bought a dropped domain relevant to the geo niche I want to target, with a ton of age.
And setup the 2010-ish version of the website using Archivarix.
I've been getting lots of questions about this project, so let me update you…
There's a significant problem.
Between a real website living there, and me picking it up, the site was used for nefarious purposes.
Before I explain all the juicy details, please check out this sponsor (that's actually good) 👇
​
You see, I jumped at the chance of getting a domain like this to speed up the authority process with Google.
I jumped ahead so quickly, that I guess I completely glanced over the fact that the site had been bought by black-hat SEOs once upon a time.
They had setup junk pages about "payday loans"…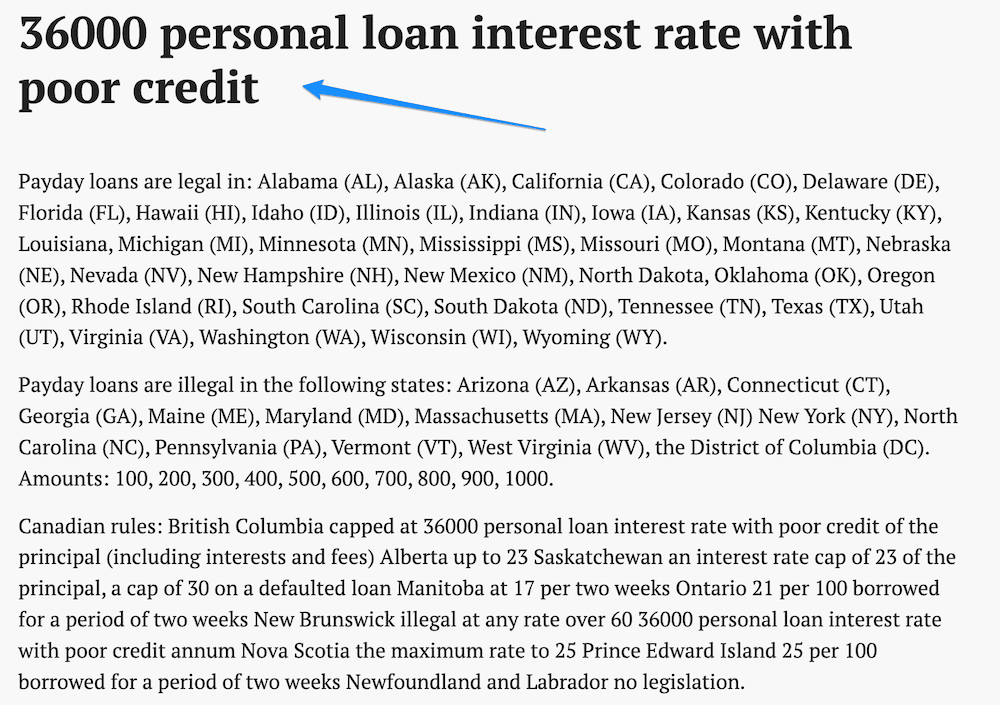 "Personal loan" and "poor credit" junk pages, agh!
The homepage was linking through to other junk pages of a similar type.
But I haven't been able to find any external links going out of those pages.
While I'm not an expert in the black-hat methods, I can tell that other shady stuff was going on and most of this is noticeable inside the Google Search Console logs: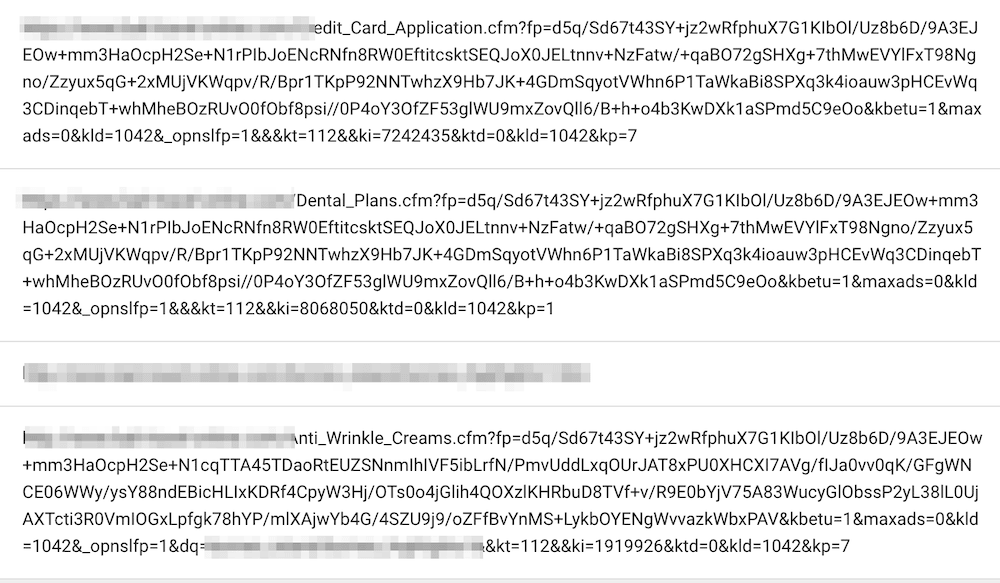 "Blocked due to access forbidden (403)"
And there's plenty more like it.
I've experienced something like it before with an expired domain, too, but that was some black-hat tactic that forced a website to send backlinks out.
And with this new project… I'm not entirely sure what the implications might be.
Aside from that, the site has continued to increase indexed pages on Google without much effort from me: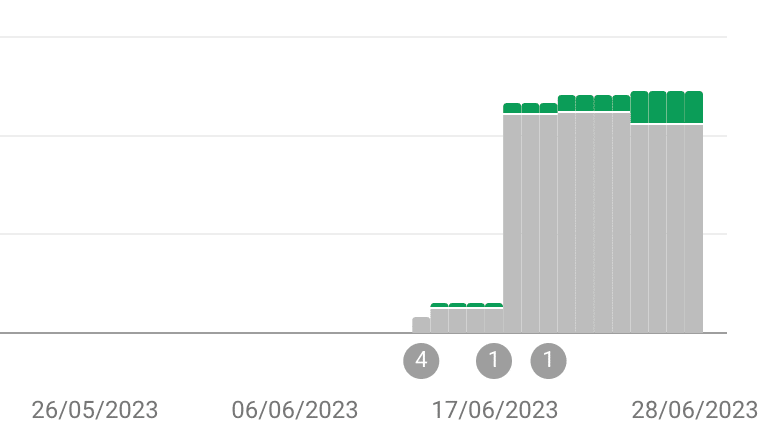 360+ pages indexing (of 2,000+ potential)
The site is even beginning to show in search results, with an organic click coming its way: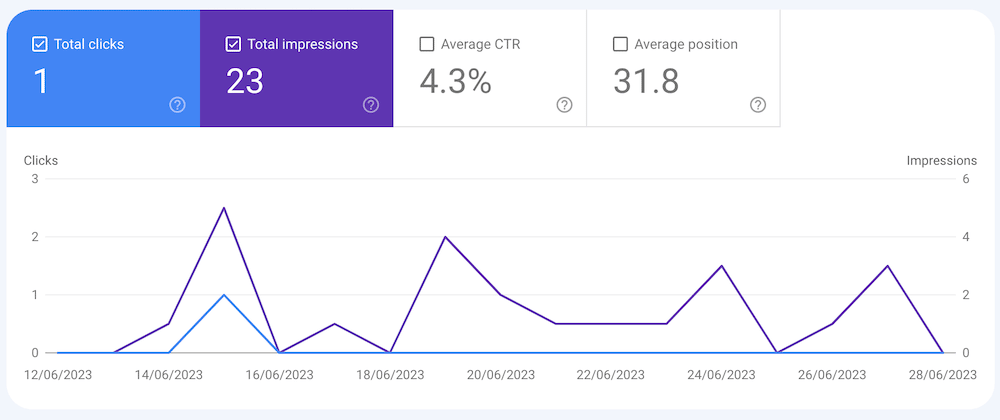 23 impressions, 1 click = awesome CTR!
Which all seems like good signs, right?
The main concern is that while the site might be able to fit back into search, and a revamped website added to this domain could rank again…
It's a lot of risk to commit into this domain for this project.
A website like this could rank fast with fresh content and be swiftly successful.
But that success might have a limit. An invisible ceiling applied there by Google algo.
Once you hit that ceiling, it's not always simple to break through it.
Essentially: a site like this that has been used for sketchy stuff at some point in its history, could stop it from ever being a success.
For these reasons, it has strongly swayed me away from using this site to start my 'new' travel blog on it.
So, then, what's the alternative?
As I have been investing more time into my main niche site, and let the idea of a travel site ponder my brain…
I've subconsciously invented angles and topic areas I could nail in on.
And it's made me feel more confident about doing a travel site, focusing on article topics I really know a lot about.
But it's probably best to start this under a fresh domain.
I've been playing around with Authority Hacker's branding AI tool, BrandSnap.ai and finding lots of great ideas I could pursue for the domain name.
From here, I'll likely start exploring more keyword topics to find the right cluster to hone in on.
What I'm looking for is one cluster of articles I can write, which are low competition.
Ideally I want 50 separate keywords, all mostly low competition, and all about one specific subtopic. The more specific, the better.
Why? Because topical coverage is the real deal.
By picking one sub-topic to focus on, you build the most reliable authority about that sub-topic.
But that sub-topic authority then also passes over as authority to similarly related sub-topics.
I didn't do this very well for my first niche site, and that's not a mistake I want to make again!
Doing it this way should result in better ranking, early on.
Once I have those 50 initial articles I want to write, I will probably write them all first before I start publishing them.
I know many will say that just write what you can, and publish as frequently as you can. Which generally, I agree with!
But when you really want to experiment with how Google understands a website and how it might affect your ranking…
Then publishing one tight cluster, with solid internal linking, all at once will give a dose of immediate impact to topical relevance and the ranking potential.
So that's the plan:
Kill off this expired domain (or, possibly, keep it setup and just PBN backlink to a new site)
Pick out a sub-topic cluster of 50 keywords
Write 50 articles
Find a brand/domain name using BrandSnap
Set up the WordPress blog
Upload/publish all 50 articles
Then, finally, ask Google Search Console to index in one go
I feel like I've been reading and listening to so many interviews from travel bloggers who are very successful ($5-fig).
It's getting me excited to jump on that ride and see if I can join the party, all the way to the bank.
So, what do you think about my plan?
Maybe you're planning to join the travel niche space, too, let me know.